Sublimation Blank Keychain
Looking for a Sublimation Blank Keychain online in India? Sublimation MDF Keyrings and MDF Sublimation Keychain are available at the best price in India.
Sublimation Blank Keychain :Price List
Single Side Keyring – Rs. 10 Each Double Side Keyring – Rs. 15 Each
Material – Sublimation MDF
Size 2.25 x 2.25
MoQ-10 Piece any Shape

Double Side Printable Keyring – Rs. 20 Each Material – Acrylic (4 mm)
Water Proof Size 2.25 x 2.25 MoQ-10 Piece any Shape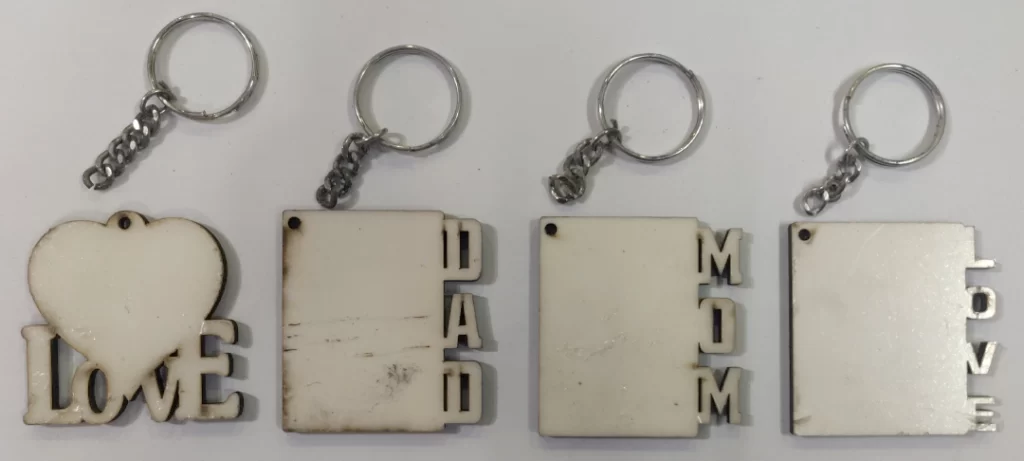 Manufacturer of sublimation keychains, including polymer key chains, rectangular key rings, metal key chains, and blank keychains made of MDF. Each blank keyring is covered in a protective layer to safeguard the sublimation surface.
Sublimation printed accessories are the best way to entice your clients to buy more and more of your inventory. We offer the best range of sublimation metal keychain, metalized sublimation keychain, sublimation metal diamond keychain, heart-shaped sublimation metal keychains, sublimation metal key chain blanks, and wooden sublimation key chains.
Your customers will definitely keep coming back for more purchases if you provide a large selection of sublimation accessories. You'll generate even more sales with your variety of sublimation blanks! For customers that like monogram keychains, photo keychains, or even quote keychains, it makes a fantastic personalised keychain.
These incredible sublimation keychains that will give your keychain printing business a personal touch. Take your sublimation printing company to the next level! With these personalised keychains, you highlight the beauty of customization.
This Sublimation Printing MDF Keychain Blank 2 Sided is ideal for expanding your store's accessory selection to include keychains printed with sublimation. This sublimation keychain is ideal for individuals who want to offer adorable customised keychains because it comes in your choice of shape and can be turned into personalised keychains for your customers.
This sublimation blank Keychain is simply great. These MDF keychains are available in three different shapes: circles, hearts, and squares.
Other sublimation Product https://dittoboss.com/product-category/sublimation-blank-products/
How to Print : https://www.youtube.com/watch?v=Vfsg0zN_azo&t=1237s